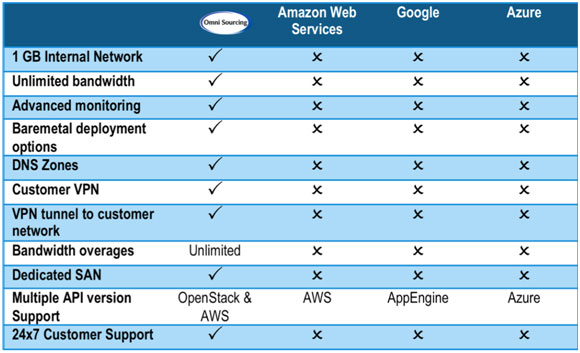 Omni Sourcing is a leading innovator of infrastructure in Service and Cloud Computing. We understand the need to provide performance and scalability in an efficient and predictable manner. We defy the status quo and re-define how services are delivered. We provide scalable products that customize to your needs. We work to fit into your business model rather than requiring you to fit into ours.
We bring industry leading automation and service combined with ease of use to power your business effectively. We understand your need for comprehensive solutions that deliver value and allow you to meet the expectations of your customers.
Multi-Layer Security Strategy
Physical and Operational Security
In the cloud, there can be many points of entry or attack for malicious activity. Omni Sourcing provides a wide range of security options for you to choose from, so you can protect your infrastructure with multiple, overlapping layers of protection customized to your needs and interests.
Network Security
Even the smallest flaw can compromise your company's network. Omni Sourcing's innovative network architecture and commitment to using the most advanced hardware technologies dramatically minimize your data center and server exposure to outside threats. The network integrates three distinct and redundant architectures into our multi-tiered network topology. Your systems are fully accessible to your administrative personnel but are safely off-limits to others.
Data Center
The Omni Sourcing data center is located in Dallas, TX at the crosshairs of over sixteen fiber providers and unrivaled power redundancy that include independent TXU substation feeders and six in-building main switchgear rooms.
SSAE 16 SOC-1 Type II compliant facility
Lightening protection system
Dry pipe fire suppression system
System, Application, and Data Security
Beneath our layers of physical and network protection, your individual computing systems, several tiers of comprehensive, standard security features further safeguard applications, and data.
Cloud Hosting
The Omni Sourcing system is a comprehensive alternative to cPanel or Plesk. It gives you a single interface to manage multiple virtual hosts. It supports the creation of Apache virtual hosts, DNS zones, MySQL databases, and mailboxes with Sendmail or Postfix. Give your users individual webmin accounts to manage their domains and files.
Power
Redundant power available via UPS and diesel generator backup
Cooling and humidity controls via redundant, multi-zone HVAC
Abundant chilled water capacity at 2(N) redundancy
Security
24-hour onsite personnel
Secure entrance with check-in station and man-trap
Card-key access system
Interior and exterior video surveillance